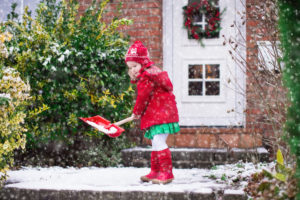 While the holidays can be joyous and happy for many, for others they can be really difficult. Giving back during this time of the year can be especially rewarding and really make someone's day a little brighter. Who knows, you may start a chain reaction, inspiring others to spread kindness around as well!
Here are 25 great ideas:
Send a card or a care package to a soldier overseas.
Send a card or a care package to a terminally ill child.
Send a card or a care package to anyone you can think of that could use a pick me up. It can be anonymous if you like.
Let the person behind you have the parking spot you're both driving around looking for.
Bake some cookies and drop them off at places where people have to work on Christmas — hospitals, firehouses, police stations, etc.
Offer to feed a pet, get the mail or water the plants of a person that is going out of town for a few days.
Offer to shovel snow for a neighbor.
Give a homeless person a gift certificate to a sandwich chain.
Help a neighbor carry groceries or packages to her door.
Tip a street musician, look him or her in the eye, and say, "Thank you."
Offer to take someone's shopping cart back inside.
Visit a nursing home, bring little gifts if you can. If you have children, bring them with you, just seeing little children can bring so much joy to the elderly.
If you know someone with small kids, offer to babysit (for free) for an hour or two, so he or she can do last-minute Christmas shopping, wrap gifts or just take a nap.
Offer to give someone a ride home from work/class/a holiday party.
Give blood.
Pay for someone's coffee.
Overtip the waitress.
Compliment a stranger.
Tape money and a note to a vending machine.
Leave a gift for your mail person, garbage/recycling person, UPS delivery person. They are working extra hard this time of year.
Donate to anything and as much as you can. (Toys for Tots, Adopt-a-Family etc.)
Volunteer your time doing anything that will help out someone else. (It can be with a formal organization like a homeless shelter or helping someone that needs a little extra help wrap gifts.)
Plug someone's expired meter and/or tape quarters to meters throughout a parking lot.
Write notes to your family members telling them what you love about them.
Smile at EVERYONE you cross paths with.